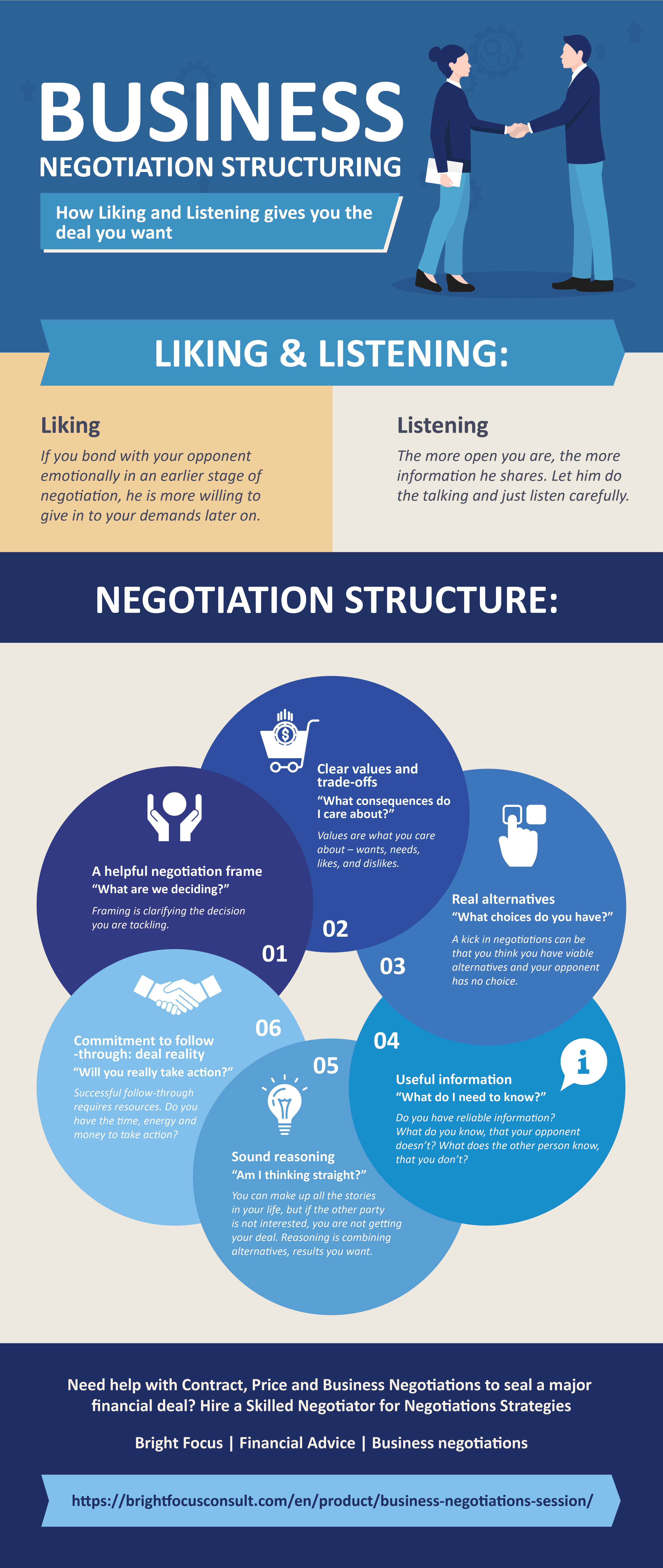 Business Negotiation Structuring
High performance Business Negotiation Structuring? How do you structure an effective negotiation?
Please take a look at the following criteria that you should include in your business negotiations to get results.
Liking and Listening
Liking
If you bond with your opponent emotionally in an earlier stage of negotiation, he or she is more willing to give in to your demands later on.
Listening
The more open you are, the more information he or she shares. Let the other do all the talking and just listen very carefully.
Business Negotiation Structuring
01 A helpful negotiation frame – "What are we deciding?"
Framing is clarifying the decision you are tackling.
02 Clear values and trade-offs – "What consequences do I care about?"
Values are what you care about – wants, needs, likes, and dislikes.
03 Real alternatives – "What choices do you have?"
A bias in negotiations can be that you think you have viable alternatives and your opponent has no choice.
04 Useful information "What do I need to know?"
Do you have reliable information?
What do you know, that your opponent doesn't? What does the other person know, that you don't?
05 Sound reasoning "Am I thinking straight?"
You can make up all the stories in your life, but if the other party is not interested, you are not getting your deal.
Reasoning is combining alternatives to get the results you want.
06 Commitment to follow-through: deal reality – "Will you real take action?"
Successful follow-through requires resources. Do you have the time, energy and money to take action?
Need help with Contract, Price and Business Negotiations to seal a major financial deal? Hire a Skilled Negotiator for Negotiations Strategies.
and get a FREE ebook Negotiation Biases
Bright Focus | Financial Advice | Business Negotiations
Book now