Get the Negotiation Expertise you need
Book a Negotiation Consulting or Coaching session to achieve better financial results with your Business Negotiations. We are available 'on demand' for critical negotiations. Whether you need coaching on how to best handle a high-stake deal, or want negotiation expertise on your team, our Professional Negotiation Services are just an instant away.
You receive personal guidance from an Expert Negotiator with more than two decades of experience who will work with you on:
Scenario-specific preparation for Business Negotiations
Negotiation Coaching to evolve your Negotiation Skills
Negotiation Consulting to determine the most effective options
Consulting Engagements where we join forces with you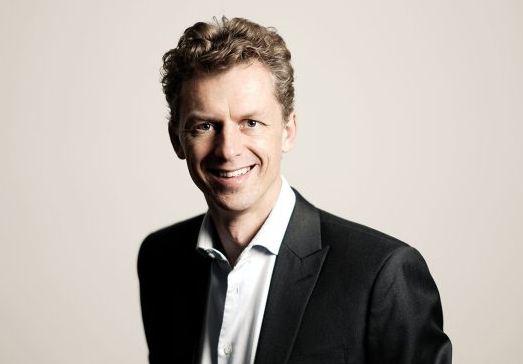 Effective Negotiation Services for Better Results
FREE
15 minutes

Negotiation Consult

PREPARATION - STRATEGIES

1 hour session

Negotiation Coaching

PLAN – DO – CHECK – ADJUST
consulting engagements
Negotiation Consulting
Return on Investment: Negotiation Services don't cost – they pay
Contact us now
Personal and confidential
Coaching, consulting and mentoring at any stage of a negotiation gives you a competitive edge achieving better outcomes. As an expert negotiator I support you with your negotiation process, formulating effective negotiation strategies and strengthening your position.
With decades of experience at the negotiation table the negotiation guidance typically takes the following forms:
Advisory role: Creating negotiation strategies behind the scenes
Partnership: Sitting with you as direct participant at the negotiation table
Third-party advocate: Acting, with your express consent, on your behalf
Negotiation Coaching and Consulting
Confidentiality
Our client relationships and the business improvements are protected by confidentiality and non-disclosure agreements if needed as respecting our clients' requirements.
Professional fees – pricing options
e framework for the professional fees is based on the overall scope of the negotiating coaching or consulting assignment.
For project-based coaching and consulting assignments, we charge an hourly/daily fee, or a combination of a one-time fee and a performance-based commission, based on the 'value' of the deal we are working on (e.g. additional revenue, cost savings, or value delivery).
Take action and contact me to get the expert negotiation services that you need
Get the Business Negotiation results you want on your terms
erybody is an expert negotiator, until you are not. Sitting on the sidelines, commenting on other people's business negotiations is an easy task. But handling your own stress under pressure when a major financial deal is in play, is one of the most difficult things to do in life. During a negotiation, it would be wise not to take anything personally. If you leave personal judgments out of it, you will be able to see opportunities more objectively.
Balancing between building and maintaining relationships and getting what you want is a constant negotiation by itself. But in life you don't get what you deserve, you get what you negotiate. The most difficult thing in any negotiation is making sure you strip the emotion and deal with the facts. It's understandable that there are considerable challenges in doing this as we are only human after all.
Enquire about our Negotiation Skills and Negotiation Strategies to help your Business Negotiations.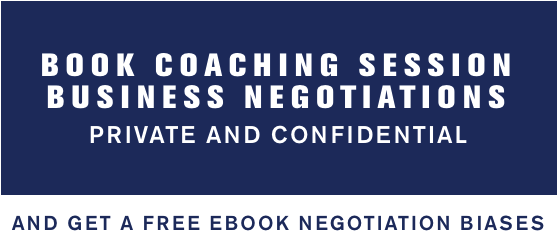 A Skilled Negotiator listens carefully and acts upon this information favourably
If you come to a negotiation table saying you know everything already, it will be very hard to gain anything. If you are planning on doing business with someone again after the transaction at hand, don't be too tough in the negotiations. You want to appreciate relationships, because they can build you wealth and prosperity.
But don't be shy away from conflict either during contract negotiations. Conflict can be very helpful in the negotiation process to get a clear picture what the other stakeholders are really after. It is the clash of ideas, which then, all being well, can produce an outcome that works for everyone to seal the deal.
As a Strategic Negotiator, I offer insight to take decisive action for your specific Contract Negotiation.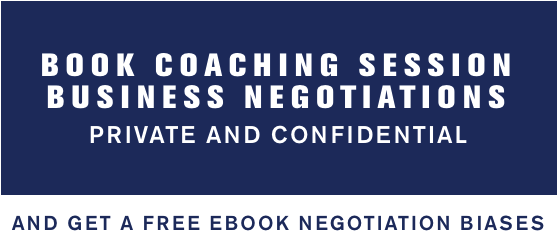 A Deal Negotiator helps you through heated moments
During a negotiation process, it is common for misconceptions between parties to occur, since both assume what the other person is saying or thinking. This can lead to conflicts or disagreements and can distract from your intended result. Always keep your objectives in mind and the eye on the price.
Negotiation is all about building trust and developing a sense of mutual confidence. Strive to find a solution that pleases everyone involved, because no one accepts that they must lose a negotiation. As a win win negotiator, no matter what the financial results from a business negotiation are, it is extremely important to give the other person the feeling that they did an excellent job negotiating their outcome. Every stakeholder must have the feeling they won and got out of the negotiation what they wanted.
Enquire about our offer Professional Negotiation Consulting Services how to prepare for your Negotiation to get what you want.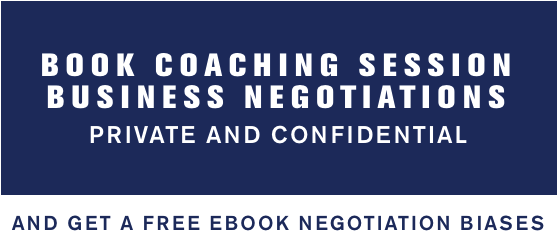 An Effective Negotiator guides Negotiations aligned with your financial interests
Negotiation is not about figuring out who is right or wrong during the process. It is about getting the parties involved to agree to embrace the other party's perspective. In reality, people tend to make their decisions based on what the facts mean to them, not on the facts themselves. Therefore, determining the essence of different points of view requires that you listen very carefully to what the other party actually has to say. You have to read between the lines to pick up the unspoken, which most of the time determines the final result of the negotiation process really.
Don't underestimate the amount of financial gain or loss that is left on the table in any negotiation. In real life even effective power negotiators don't know what the walk away point in negotiation for the other party is. Nobody discusses the cards of a business negotiation after the deal is closed. The empirical evidence of dozens of negotiation exercises performed by thousands of students show that the financial outcome can be significantly different. But the financial results are only one part of a negotiation. Don't underestimate the value of sharing positive feedback with the other party after finishing a successful negotiation.
If you are on the verge of a major business deal and in need for Negotiation Strategies hire a Contract Negotiator for better results.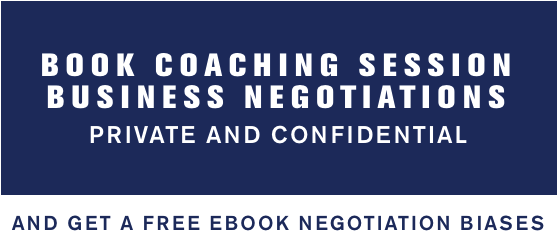 A Professional Negotiator keeps an open mind for creative solutions
One major action you can take in negotiations is to think of an incentive the other person hasn't even thought of and then meet it. Keep pushing on explaining the value you deliver during the negotiation process and let them justify the cost of every element in your contract negotiation. You don't mind paying if the value satisfies your interests, but you just don't like to overpay.
People tend to overvalue gestures given away by the other party, while an objective eye would see through the smoke and mirrors presented. A willingness to meet halfway for certain elements during a business negotiation works well only if all stakeholders are able to judge the distance accurately. From the perspective of a business negotiator there can be a deal only when all your relevant financial interests are met.
Enquire about our Negotiation Strategies with an step-by-step Strategic Plan to be more successful with your deal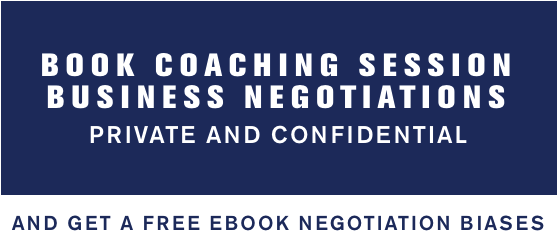 An Expert Negotiator keeps the eye on the value
Our style of deal-making and negotiating is simple and straightforward. We guide you during the process to aim very high with the right frame of mind and ammunition to deliver a credible story. Then, during the interaction with the other party, we just keep pushing and pushing and pushing to get what you want. Only when you are satisfied we will agree to the negotiation terms and conditions.
The most important thing someone has to tell you during a negotiation is what he is not telling you. Getting this information to the surface requires that you listen and read the other person carefully and communicate in such a way that a mutual trust develops to have the right conversation.
Enquire about developing your Negotiation Skills, so that you can take decisive action and lead Negotiations to a better outcome.